A married couple made sure to live a healthy life, go to the gym, and check their food's fat content. This helped them live a healthy life and way into their centenary year.
But one day, the couple was killed in a fatal accident and went to heaven. On their first day in the new world, the couple asked God for directions to the gym.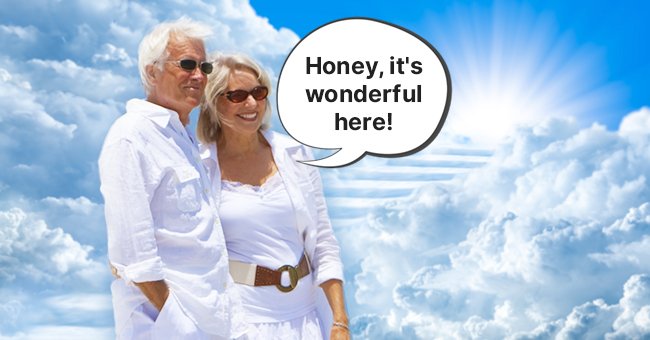 However, God told them that there was no gym in heaven, and no one needed exercise to keep fit. He explained that they would always remain in good shape even without exercise.
The wife was so glad that she wouldn't have to go through stress to maintain a good shape, but her husband appeared angry. The couple left God's presence and went to rest.
In the afternoon, they returned to God and asked him to recommend the best sunscreen. Again, God explained that no one needed sunscreen to maintain good and healthy skin in heaven. 
They didn't have to care about anything because the couple could stay in the sun all day, and the sun would not affect their skin. They didn't even have to fear cancer.
The wife was happy with the news, but the husband only looked furious. When it was close to dinner, the couple went back to God on another request. 
This time they wanted to find a restaurant that served healthy food for dinner. But God told the husband and wife that they didn't need healthy food because, in heaven, they could eat whatever they wanted without gaining weight.
The wife couldn't contain her joy hearing this and said, "Honey, it's wonderful here!" But now the husband's anger had gone up a notch. His face looked red as he turned to his wife and pointed one finger at her. He said to her:
"You see?! You see?! If it wasn't for your bloody bran muffins, I could've been here forty years ago!"
If you enjoyed this joke, you might find this one even more hilarious. It's about two men who died and went to heaven, but one of the men could not resist, so he ate out of the forbidden fruit.
Source: Reddit.com